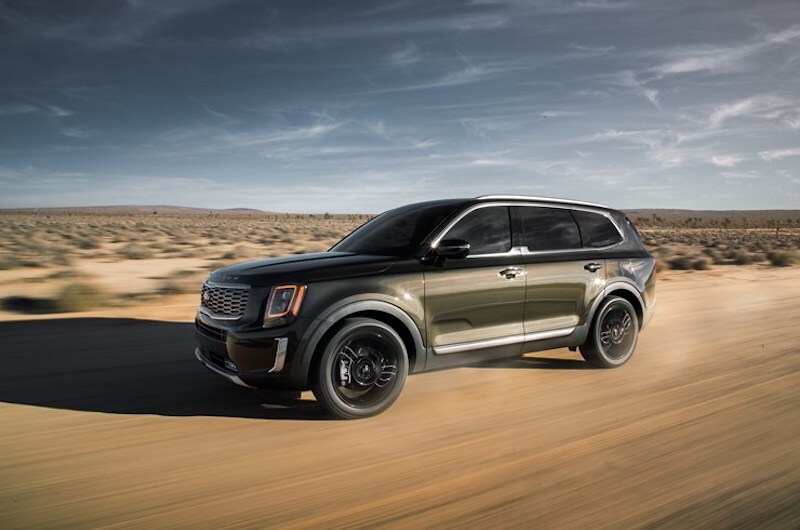 If you're looking for a vehicle in Toledo that delivers not only on performance, but also on style and efficiency, the 2020 Kia Telluride is it. The first generation of this vehicle has a rustic but luxurious look beyond it's already comfortable and spacious interior that drivers will love. This is the largest Kia vehicle so far, and provides comfortable seating for up to eight, a powerful 291-hp 3.8-liter V6, available active on-demand all-wheel drive. It's already garnered positive praise from critics since Cars.com awarded it "Best In Show" at the Detroit Auto Show. There are many reasons Kia drivers should be excited to be excited to get pre-approved to finance a new Kia Telluride at our Toledo Kia dealership, and these are just a few.
Finance An Award-Winning 2020 Kia Telluride At Our Toledo Kia Dealer
This year the the 2020 Telluride came out with the potential for exploration and adventure like no other Kia before, and has been receiving praise from critics ever since. The Telluride is the first Kia designed for the U.S. and it's a product of the Kia Design Center in Irvine, CA. Engineers crafted a quality vehicle, with the Telluride model's long, broad hood and wide grille, bold, stacked headlamps, and sculpted rear skid plate. Customers at our Toledo Kia dealership will love this new design that combines luxury with capability.
The inside of the 2020 Telluride is just as impressive. It includes grab handles integrated into the center console, a wide console with emphasis on the horizontal and uses premium trim features to convey spaciousness. However, it also has a spacious cabin for generous hip, shoulder, leg and head room, including in the third row. Even better than its comfort is the fact that the Telluride is crafted to be capable in a variety of driving conditions and provides a driving experience that is enjoyable and confidence-inspiring. Eight-speed automatic transmission, four-wheel independent suspension, and a strong, stiff, and torsionally rigid body structure give drivers this sensation.
For more information on the 2020 Kia Telluride, contact us at Taylor Kia of Toledo.