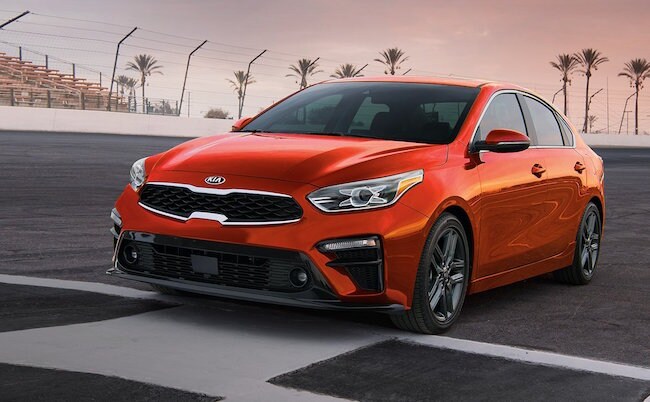 View Kia Forte Inventory
Whether you're driving for your commute to work or your taking a more luxurious, spirited tour of the back roads, you're probably looking for a vehicle that will not only take you places, but will also allow you to enjoy the journey. While there are a number of attractive, capable sedans in its class at our Toledo dealership, the
2019 Kia Forte
clearly stands above the rest. This is true especially when comparing it with a similar sedan model, the 2019 Toyota Corolla, in a variety of categories.
Beginning with its many standard amenities and more naturally refined and bold appearance, the 2019 Kia Forte takes the cake over the 2019 Toyota Corolla. The Forte introduces extra features both inside and out. For instance, the 2019 Forte offers standard Apple CarPlay and Android Auto while the Corolla only offers this as an available option. Also, A number of previously available Kia Drive-Wise technologies are now standard on all 2019 Forte trim levels and include safety features, like forward collision-avoidance assist and lane keeping assist. The Kia Forte is a bit larger than the 2019 Corolla as well, with 15.3 cubic feet of a newly designed signature tiger nose grill, and aggressive black lower valance on the muscular exterior. Inside, the Forte offers standard leather seats and driver power seats to keep passengers comfortable.
Toledo Kia Shoppers Can Find the Ultimate Package in the Kia Forte
Our Toledo Kia dealer is proud to offer the latest model and answer the question of what's new in the 2019 Kia Forte; it's as a great pick inside and out, for its comfort, style, and performance. The Forte is more powerful than many sedans in its class, including the 2019 Corolla, with 147 horsepower compared to the Corolla model's 132. The Kia Forte also doesn't have to sacrifice its fuel economy for its strength, with with the Forte getting one more mile per gallon on the highway, and the Corolla having one mpg more in the city. On top of this performance, the Insurance Institute for Highway Safety grants the Forte Sedan its highest rating: "Top Pick Plus" for 2018, a rating granted to only 28 vehicles tested by the IIHS. The new Kia Forte supplies the best of both worlds in capability and comfort, a feat that the Toyota Corolla cannot contest.
For more information on the new Kia Forte, contact us at Taylor Kia of Toledo.
View Kia Forte Inventory